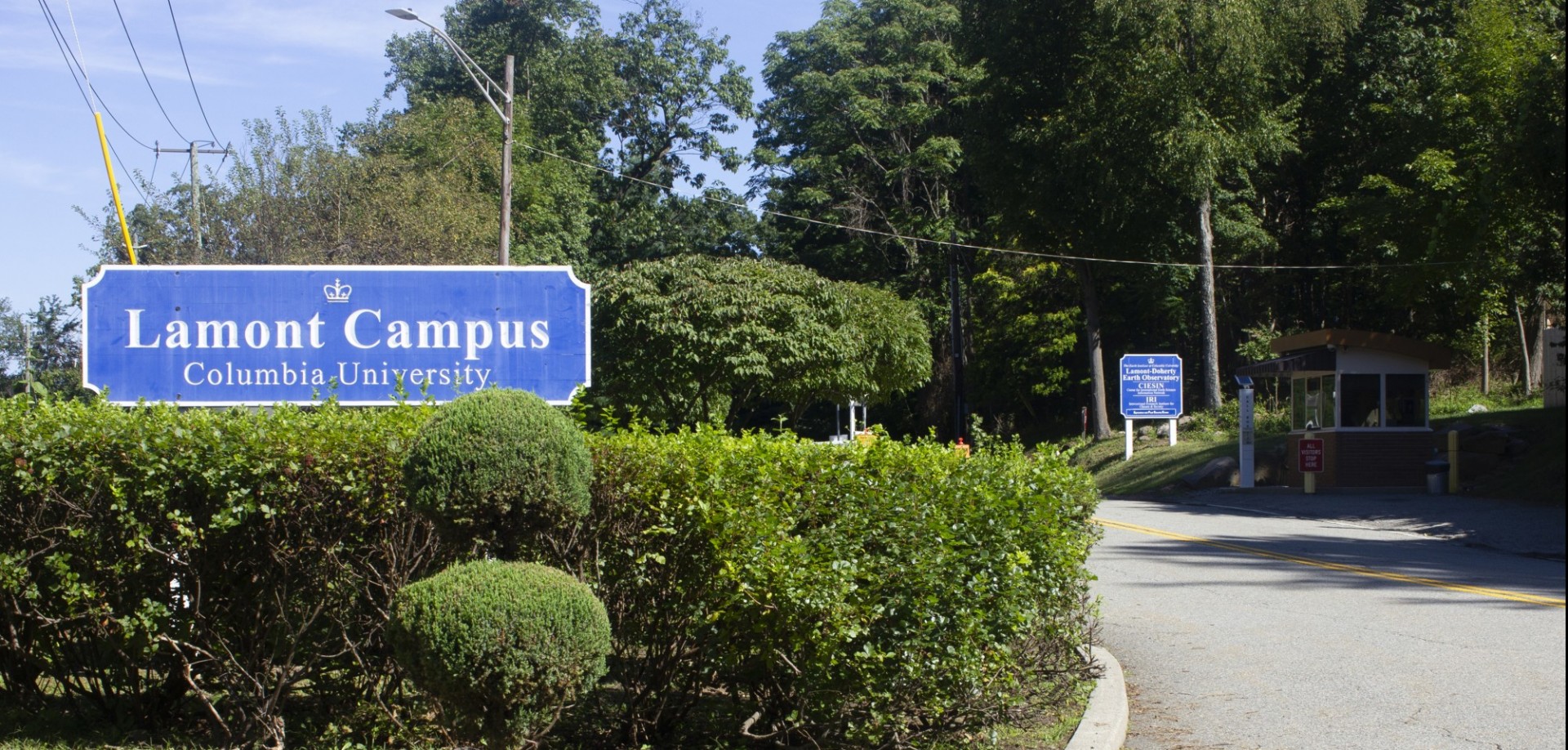 Lamont Shuttle
Connects Morningside campus with the Lamont-Doherty Earth Observatory. Download the schedule.
Seating is available on a first-come, first-served basis and all riders must present their Columbia ID. 
Lamont-Doherty is a secure facility. Shuttle riders that are going to be dropped off need to be added to security's visitor log. Please email [email protected] with shuttle rider's name, person dropping off and the license plate of the vehicle.
Columbia Transportation will be operating one of our new electric buses on the Lamont Route to reduce greenhouse gas emissions and our carbon footprint.
Need help or have questions?
Don't hesitate to contact us. However, if there is an issue locally at Lamont, please contact Howie Matza in Facilities directly at:
Office: 845-365-8822  
Main: 845-359-2900
Email: [email protected]
He can provide assistance more quickly than our team on the Manhattan campuses.
If you've ever used Google Maps, our interactive shuttle map should look familiar. Simply enter your starting and destination addresses and when you want to leave. You'll be presented with several different routes that satisfy your requirements. Clicking on the Shuttle Stop markers on the map displays the next three shuttle arrival times as well as a photo of the stop.  If you need help, view our brief tutorial video.
The schedule below reflects the expected arrival time of the shuttle at each stop. GPS tracking of this Shuttle will be available on our website in the future.
See exactly where the Intercampus Shuttle is right now using the GPS functionality of our Shuttle Stop Map below, or through the Passio Go! app, available for free download.
Our partner Passio provides an app for both iOS and Android called Passio Go! It allows you to quickly check the location and routes of our shuttles from your mobile device. Download it now.
Lamont Shuttle Schedule & Route Map
Before using the interactive route map and Shuttle schedule below, please familiarize yourself with the Shuttle route and stop locations.
Stop Name

120 St (Fort Lee & Lamont Bound)

Location

Outside of Teachers College on 120th Street
Stop Name

CU Medical Center (Fort Lee/Lamont Bound)

Location

East side of Broadway between 166 St. and 168 St.
Stop Name

CU Medical Center South

Location

West side of Broadway between 166th and 167th Streets (in front of New York-Presbyterian entrance) facing south.
Stop Name

Lamont-Doherty Geoscience Building

Location

Outside of Geoscience Building
Stop Name

Fort Lee

Location

Drop-off: Northwest corner of Linwood Ave & Lewis St
Pick-up: Northeast corner of Lewis St & Fletcher Ave see locations here
Stop Name

Nash North

Location

Southeast corner of 133rd Street and Broadway.
Stop Name

Studebaker (131 Street)

Location

3270 Broadway, between 131 and 132 Streets see location here
LAMONT SHUTTLE: ROUTE MAP
The route shown on the map includes all stops that the Lamont Shuttle makes throughout the day.  As the Shuttle does not stop at every stop on every run, please use the map to get directions or refer to the schedule to ensure you choose the correct route.
When searching for directions using the maps, the system will only search times for the routes you have showing on the map. To search all available routes and times, ensure that all routes are visible.
The shuttle is tracked live via GPS. A moving bus icon on the map will show you where the shuttle is in real-time.
Lamont Shuttle Schedule: Fall '23 (Morningside Bound)
Shuttle Stop

Lamont-Doherty Geoscience Building

7:30am

Shuttle Stop

Fort Lee (Morningside Bound)

Not Stopping

-

Shuttle Stop

CUIMC South

Not Stopping

-

Shuttle Stop

Studebaker South

8:15am

Shuttle Stop

Teachers College 120 St (Morningside Bound)

8:25am
Shuttle Stop

Lamont-Doherty Geoscience Building

Not Stopping

-

Shuttle Stop

Fort Lee (Morningside Bound)

Not Stopping

-

Shuttle Stop

CUIMC South

Not Stopping

-

Shuttle Stop

Studebaker South

Not Stopping

-

Shuttle Stop

Teachers College 120 St (Morningside Bound)

Not Stopping

-
Shuttle Stop

Lamont-Doherty Geoscience Building

9:00am

Shuttle Stop

Fort Lee (Morningside Bound)

Not Stopping

-

Shuttle Stop

CUIMC South

Not Stopping

-

Shuttle Stop

Studebaker South

9:30am

Shuttle Stop

Teachers College 120 St (Morningside Bound)

9:40am
Shuttle Stop

Lamont-Doherty Geoscience Building

10:00am

Shuttle Stop

Fort Lee (Morningside Bound)

10:13am

Shuttle Stop

CUIMC South

10:23am

Shuttle Stop

Studebaker South

10:30am

Shuttle Stop

Teachers College 120 St (Morningside Bound)

10:45am
Shuttle Stop

Lamont-Doherty Geoscience Building

11:00am

Shuttle Stop

Fort Lee (Morningside Bound)

11:13am

Shuttle Stop

CUIMC South

11:23am

Shuttle Stop

Studebaker South

11:30am

Shuttle Stop

Teachers College 120 St (Morningside Bound)

11:45am
Shuttle Stop

Lamont-Doherty Geoscience Building

12:00pm No Shuttle

Shuttle Stop

Fort Lee (Morningside Bound)

Not Stopping

-

Shuttle Stop

CUIMC South

Not Stopping

-

Shuttle Stop

Studebaker South

Not Stopping

-

Shuttle Stop

Teachers College 120 St (Morningside Bound)

Not Stopping

-
Shuttle Stop

Lamont-Doherty Geoscience Building

1:00pm

Shuttle Stop

Fort Lee (Morningside Bound)

1:13pm

Shuttle Stop

CUIMC South

1:23pm

Shuttle Stop

Studebaker South

1:30pm

Shuttle Stop

Teachers College 120 St (Morningside Bound)

1:45pm
Shuttle Stop

Lamont-Doherty Geoscience Building

2:00pm

Shuttle Stop

Fort Lee (Morningside Bound)

2:13pm

Shuttle Stop

CUIMC South

2:23pm

Shuttle Stop

Studebaker South

2:30pm

Shuttle Stop

Teachers College 120 St (Morningside Bound)

2:45pm
Shuttle Stop

Lamont-Doherty Geoscience Building

3:00pm

Shuttle Stop

Fort Lee (Morningside Bound)

Not Stopping

-

Shuttle Stop

CUIMC South

Not Stopping

-

Shuttle Stop

Studebaker South

3:30pm

Shuttle Stop

Teachers College 120 St (Morningside Bound)

3:40pm
Shuttle Stop

Lamont-Doherty Geoscience Building

4:00pm

Shuttle Stop

Fort Lee (Morningside Bound)

Not Stopping

-

Shuttle Stop

CUIMC South

Not Stopping

-

Shuttle Stop

Studebaker South

4:30pm

Shuttle Stop

Teachers College 120 St (Morningside Bound)

4:40pm
Shuttle Stop

Lamont-Doherty Geoscience Building

5:00pm MON-THUR

Shuttle Stop

Fort Lee (Morningside Bound)

Columbia Branded

Shuttle Stop

CUIMC South

Not Stopping

-

Shuttle Stop

Studebaker South

5:30pm

Shuttle Stop

Teachers College 120 St (Morningside Bound)

5:40pm
Shuttle Stop

Lamont-Doherty Geoscience Building

5:00pm MON-THUR

Shuttle Stop

Fort Lee (Morningside Bound)

Academy Branded

Shuttle Stop

CUIMC South

5:25pm

Shuttle Stop

Studebaker South

Not Stopping

-

Shuttle Stop

Teachers College 120 St (Morningside Bound)

5:45pm
Shuttle Stop

Lamont-Doherty Geoscience Building

***5:00pm FRIDAY

Shuttle Stop

Fort Lee (Morningside Bound)

Columbia Branded

Shuttle Stop

CUIMC South

5:25pm

Shuttle Stop

Studebaker South

Not Stopping

-

Shuttle Stop

Teachers College 120 St (Morningside Bound)

5:45pm
Shuttle Stop

Lamont-Doherty Geoscience Building

***5:30pm FRIDAY

Shuttle Stop

Fort Lee (Morningside Bound)

Academy Branded

Shuttle Stop

CUIMC South

Not Stopping

-

Shuttle Stop

Studebaker South

6:00pm

Shuttle Stop

Teachers College 120 St (Morningside Bound)

6:10pm
Shuttle Stop

Lamont-Doherty Geoscience Building

6:00pm

Shuttle Stop

Fort Lee (Morningside Bound)

Not Stopping

-

Shuttle Stop

CUIMC South

Not Stopping

-

Shuttle Stop

Studebaker South

6:30pm

Shuttle Stop

Teachers College 120 St (Morningside Bound)

6:40pm
Shuttle Stop

Lamont-Doherty Geoscience Building

**7:00pm

Shuttle Stop

Fort Lee (Morningside Bound)

Not Stopping

-

Shuttle Stop

CUIMC South

Not Stopping

-

Shuttle Stop

Studebaker South

7:30pm

Shuttle Stop

Teachers College 120 St (Morningside Bound)

7:40pm
Shuttle Stop

Lamont-Doherty Geoscience Building

Shuttle Stop

Fort Lee (Morningside Bound)

Shuttle Stop

CUIMC South

Shuttle Stop

Studebaker South

Shuttle Stop

Teachers College 120 St (Morningside Bound)
7:30am

Not Stopping

-

Not Stopping

-

8:15am
8:25am

Not Stopping

-

Not Stopping

-

Not Stopping

-

Not Stopping

-

Not Stopping

-

9:00am

Not Stopping

-

Not Stopping

-

9:30am
9:40am
10:00am
10:13am
10:23am
10:30am
10:45am
11:00am
11:13am
11:23am
11:30am
11:45am
12:00pm No Shuttle

Not Stopping

-

Not Stopping

-

Not Stopping

-

Not Stopping

-

1:00pm
1:13pm
1:23pm
1:30pm
1:45pm
2:00pm
2:13pm
2:23pm
2:30pm
2:45pm
3:00pm

Not Stopping

-

Not Stopping

-

3:30pm
3:40pm
4:00pm

Not Stopping

-

Not Stopping

-

4:30pm
4:40pm
5:00pm MON-THUR
Columbia Branded

Not Stopping

-

5:30pm
5:40pm
5:00pm MON-THUR
Academy Branded
5:25pm

Not Stopping

-

5:45pm
***5:00pm FRIDAY
Columbia Branded
5:25pm

Not Stopping

-

5:45pm
***5:30pm FRIDAY
Academy Branded

Not Stopping

-

6:00pm
6:10pm
6:00pm

Not Stopping

-

Not Stopping

-

6:30pm
6:40pm
**7:00pm

Not Stopping

-

Not Stopping

-

7:30pm
7:40pm
Lamont Shuttle Schedule: Fall '23 (Lamont Bound)
Shuttle Stop

Teachers College on 120 St (Lamont & Fort Lee Bound)

8:00am

Shuttle Stop

Studebaker North

8:05am

Shuttle Stop

CUIMC (Fort Lee/Lamont Bound)

Not Stopping

-

Shuttle Stop

Fort Lee (Lamont Bound)

Not Stopping

-

Shuttle Stop

Lamont-Doherty Geoscience Building

8:40am
Shuttle Stop

Teachers College on 120 St (Lamont & Fort Lee Bound)

*8:30am

Shuttle Stop

Studebaker North

8:35am

Shuttle Stop

CUIMC (Fort Lee/Lamont Bound)

Not Stopping

-

Shuttle Stop

Fort Lee (Lamont Bound)

Not Stopping

-

Shuttle Stop

Lamont-Doherty Geoscience Building

9:10am
Shuttle Stop

Teachers College on 120 St (Lamont & Fort Lee Bound)

9:00am

Shuttle Stop

Studebaker North

9:05am

Shuttle Stop

CUIMC (Fort Lee/Lamont Bound)

Not Stopping

-

Shuttle Stop

Fort Lee (Lamont Bound)

Not Stopping

-

Shuttle Stop

Lamont-Doherty Geoscience Building

9:40am
Shuttle Stop

Teachers College on 120 St (Lamont & Fort Lee Bound)

10:00am

Shuttle Stop

Studebaker North

10:05am

Shuttle Stop

CUIMC (Fort Lee/Lamont Bound)

Not Stopping

-

Shuttle Stop

Fort Lee (Lamont Bound)

Not Stopping

-

Shuttle Stop

Lamont-Doherty Geoscience Building

10:40am
Shuttle Stop

Teachers College on 120 St (Lamont & Fort Lee Bound)

11:00am

Shuttle Stop

Studebaker North

11:05am

Shuttle Stop

CUIMC (Fort Lee/Lamont Bound)

11:13am

Shuttle Stop

Fort Lee (Lamont Bound)

11:23am

Shuttle Stop

Lamont-Doherty Geoscience Building

11:45am
Shuttle Stop

Teachers College on 120 St (Lamont & Fort Lee Bound)

12:00pm

Shuttle Stop

Studebaker North

12:05pm

Shuttle Stop

CUIMC (Fort Lee/Lamont Bound)

12:13pm

Shuttle Stop

Fort Lee (Lamont Bound)

12:23pm

Shuttle Stop

Lamont-Doherty Geoscience Building

12:45pm
Shuttle Stop

Teachers College on 120 St (Lamont & Fort Lee Bound)

1:00pm No Shuttle

Shuttle Stop

Studebaker North

Not Stopping

-

Shuttle Stop

CUIMC (Fort Lee/Lamont Bound)

Not Stopping

-

Shuttle Stop

Fort Lee (Lamont Bound)

Not Stopping

-

Shuttle Stop

Lamont-Doherty Geoscience Building

Not Stopping

-
Shuttle Stop

Teachers College on 120 St (Lamont & Fort Lee Bound)

2:00pm

Shuttle Stop

Studebaker North

2:05pm

Shuttle Stop

CUIMC (Fort Lee/Lamont Bound)

2:13pm

Shuttle Stop

Fort Lee (Lamont Bound)

2:23pm

Shuttle Stop

Lamont-Doherty Geoscience Building

2:45pm
Shuttle Stop

Teachers College on 120 St (Lamont & Fort Lee Bound)

3:00pm

Shuttle Stop

Studebaker North

3:05pm

Shuttle Stop

CUIMC (Fort Lee/Lamont Bound)

3:13pm

Shuttle Stop

Fort Lee (Lamont Bound)

3:23pm

Shuttle Stop

Lamont-Doherty Geoscience Building

3:45pm
Shuttle Stop

Teachers College on 120 St (Lamont & Fort Lee Bound)

4:00pm

Shuttle Stop

Studebaker North

4:05pm

Shuttle Stop

CUIMC (Fort Lee/Lamont Bound)

Not Stopping

-

Shuttle Stop

Fort Lee (Lamont Bound)

Not Stopping

-

Shuttle Stop

Lamont-Doherty Geoscience Building

4:40pm
Shuttle Stop

Teachers College on 120 St (Lamont & Fort Lee Bound)

5:00pm

Shuttle Stop

Studebaker North

5:05pm

Shuttle Stop

CUIMC (Fort Lee/Lamont Bound)

Not Stopping

-

Shuttle Stop

Fort Lee (Lamont Bound)

Not Stopping

-

Shuttle Stop

Lamont-Doherty Geoscience Building

5:40pm
Shuttle Stop

Teachers College on 120 St (Lamont & Fort Lee Bound)

**6:00pm

Shuttle Stop

Studebaker North

6:05pm

Shuttle Stop

CUIMC (Fort Lee/Lamont Bound)

Not Stopping

-

Shuttle Stop

Fort Lee (Lamont Bound)

Not Stopping

-

Shuttle Stop

Lamont-Doherty Geoscience Building

6:40pm
Shuttle Stop

Teachers College on 120 St (Lamont & Fort Lee Bound)

Shuttle Stop

Studebaker North

Shuttle Stop

CUIMC (Fort Lee/Lamont Bound)

Shuttle Stop

Fort Lee (Lamont Bound)

Shuttle Stop

Lamont-Doherty Geoscience Building
8:00am
8:05am

Not Stopping

-

Not Stopping

-

8:40am
*8:30am
8:35am

Not Stopping

-

Not Stopping

-

9:10am
9:00am
9:05am

Not Stopping

-

Not Stopping

-

9:40am
10:00am
10:05am

Not Stopping

-

Not Stopping

-

10:40am
11:00am
11:05am
11:13am
11:23am
11:45am
12:00pm
12:05pm
12:13pm
12:23pm
12:45pm
1:00pm No Shuttle

Not Stopping

-

Not Stopping

-

Not Stopping

-

Not Stopping

-

2:00pm
2:05pm
2:13pm
2:23pm
2:45pm
3:00pm
3:05pm
3:13pm
3:23pm
3:45pm
4:00pm
4:05pm

Not Stopping

-

Not Stopping

-

4:40pm
5:00pm
5:05pm

Not Stopping

-

Not Stopping

-

5:40pm
**6:00pm
6:05pm

Not Stopping

-

Not Stopping

-

6:40pm
Lamont Shuttle Schedule: Fall 2023 Saturdays
Shuttle Stop

Teachers College on 120 St (Lamont & Fort Lee Bound)

9:00am

Shuttle Stop

Studebaker North

9:05am

Shuttle Stop

Lamont-Doherty Geoscience Building

Estimated Arrival 9:45am

Shuttle Stop

Lamont-Doherty Geoscience Building

5:00pm

Shuttle Stop

Studebaker South

5:30pm

Shuttle Stop

Teachers College 120 St (Morningside Bound)

Estimated Arrival 5:45pm
Shuttle Stop

Teachers College on 120 St (Lamont & Fort Lee Bound)

Shuttle Stop

Studebaker North

Shuttle Stop

Lamont-Doherty Geoscience Building

Shuttle Stop

Lamont-Doherty Geoscience Building

Shuttle Stop

Studebaker South

Shuttle Stop

Teachers College 120 St (Morningside Bound)
9:00am
9:05am
Estimated Arrival 9:45am
5:00pm
5:30pm
Estimated Arrival 5:45pm
* PLEASE NOTE: Single run by 54 passenger Academy branded bus
** PLEASE NOTE: 6:00 p.m. Lamont-Doherty bound service and 7:00 p.m. Morningside bound service does not run on Friday)
*** PLEASE NOTE: These trips operate on Fridays ONLY