Commute Stories: Cindy Smalletz and Doug McAndrew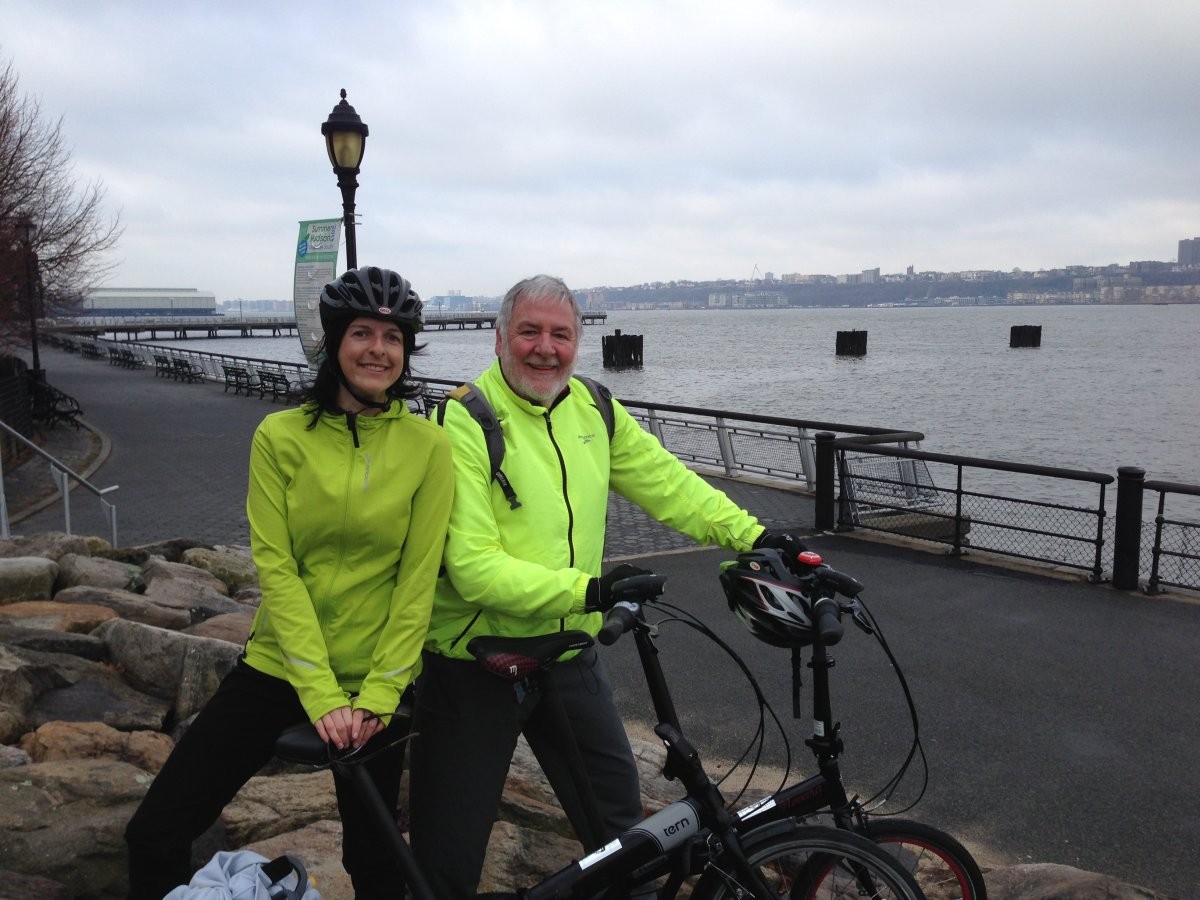 Cindy Smalletz (Narrative Medicine Program) and Doug McAndrew (College of Dental Medicine) commute to CUIMC by folding bike and New Jersey Transit from Glen Ridge, New Jersey.
For their commute, Cindy and Doug ride a mile and a half to the train in Glen Ridge, New Jersey, and then ride 30 minutes to Penn Station. They get out at Penn Station and, as soon as they get a chance, open the bikes up and take them outside to bike to the Hudson River Greenway. The entire bike ride is about 8.2 miles each way.
Cindy leaves her home at 6:50 a.m. to take a 7:05 a.m. train in New Jersey. She said the early mornings are worth not taking the subway, and instead looking at the beautiful boats, river, and the bridge, getting some fresh air (and endorphins).
"The best part is when you're leaving work," she said. "You get on the bike, and by the time I get to Penn Station, I've calmed down. I can go home and relax. Otherwise I'd go home and go for a run."
Doug said he wears a backpack for his commute, quick-dry pants from REI or Columbia, and a highly reflective yellow jacket. He has one bright-colored shirt for coming into work, and another one for going home. Cindy uses a pannier that works on her folding bike, is waterproof, and fits her laptop inside. Cindy and Doug bike about 75 percent of the year, down to 30-degree temperatures. Doug's advice for potential bike commuters includes taking a course in safely riding in the city.
"Learn the hand signals," Cindy added. "Make sure you have a bell, and front and back lights. Always wear a helmet and make yourself seen."
Both stressed that biking is not as scary as it may seem. "Don't worry," Doug said. "Just go!" Plus, the two love showing up to meetings with their helmet or folding bike. "It makes me very proud," Cindy said.