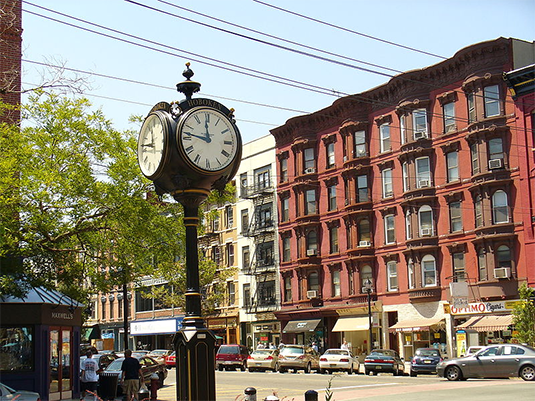 THE HOBOKEN SHUTTLE PILOT
The goal of this added service is to provide another car-free commute option to Columbia that incentivizes sustainable travel, supporting the university's Sustainability Plan. During the pilot period, this webpage will host announcements about the Hoboken shuttle's service and any adjustments made. 
Announcements will also be emailed to affiliates who express their interest by filling out the webform to the right.
Sign Up to Receive Updates and Participate in Our Pilot
Bus stop locations in New Jersey
Willow Ave. at 15th Street, Hoboken
Columbia-bound pick-up is on the northeast corner of the intersection. Use the nearby parking facility to park your car and take the shuttle to Columbia. This stop is a 15-minute walk to Hoboken town center.
Willow Ave. at 19th Street, Weehawken
Columbia-bound pick-up is at the NJ Transit bus stop on the southeast corner of the intersection. Nearby transit connections: Hudson-Bergen line light rail stop - Lincoln Harbor station and multiple NJ Transit bus lines.
Note: Hoboken service is run by the Intercampus shuttle bus, so please be aware that the bus signage may say "Intercampus" during the pilot.
HOBOKEN SHUTTLE: ROUTE MAP
The route shown on the map includes all stops that the Hoboken Shuttle makes. Riders need to hail the driver to stop for pick-up and pull the chord inside the bus to request a stop for drop-off.
When searching for directions using the maps, the system will only search times for the routes you have showing on the map. To search all available routes and times, ensure that all routes are visible.
Clicking on a stop marker will display information about the stop, a picture of the stop, and the next three times the shuttle stops there.
The shuttle is tracked live via GPS on our website. A moving bus icon on the map will show you where the shuttle is in real-time.
Columbia-Bound Hoboken Shuttle: A.M. - Fall 2020
| Willow Ave. at 15th St. (AM) | Willow Ave. at 19th St. (AM) | Amsterdam Ave. at 120th St. (AM) | Amsterdam Ave. at 125th St. (AM) |
| --- | --- | --- | --- |
| 7:18am | 7:19am | 8:00am | 8:03am |